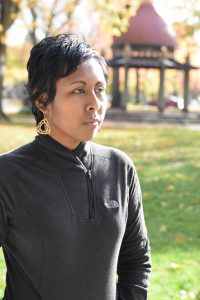 We have an incredible opportunity for you and for Oregon, and it's urgent:
Someone we know well, respect deeply, and share values with is running to be a state representative in Oregon.  We know that with enough early support and investment, she can win.  And when she does, she will be an incredible addition to the Oregon Legislature. In fact, she's exactly what our legislature needs.
Her name is Roberta Phillip-Robbins and she's running for a seat in the Oregon House of Representatives from District 43 (N/NE Portland area). Now we need your help.  We hope you'll consider contributing to her campaign to get
her off to a strong start. Truth is, strong starts are essential to winning legislative races. We want you to know why we are 150% behind Roberta:
She has the right experience. Roberta has a law degree, she's been a high school teacher, she's worked in government policy making and implementation — all experiences that have shaped her understanding of how our system works (and doesn't work) and, as a result, she knows what needs to be done and how to do it.
She brings a needed perspective to the table. Roberta is a mother, a woman of color, an immigrant, and the first in her family to attend college. We need more people at the decision-making table who bring these lived experiences and perspectives to the way we govern our state. Without them, we can't create an Oregon that truly benefits all our families.
She shares The Mother PAC's values. Roberta understands the barriers mothers face in our economy — the way it's currently structured — and wants to remove those barriers as much as we do.
Her goals for Oregon are right-on. Roberta will work to make Oregon work better for vulnerable and marginalized people in our community; she always has.
We encourage you to read Roberta's story here  — she's pretty incredible (and inspiring).
We sincerely hope you will support Roberta's exciting candidacy today while you can make a big impact for her campaign. Any amount counts.  Plus…it's time to use your 2015 political tax credit, before it expires on December 31st. You won't want to leave it on the table!
Just click here to help send a smart, forward-thinking, woman of color to the Oregon legislature right where we need more people like Roberta.
Thank you for stepping up to the plate today. Together we are making sure that the right people are at the table in the Oregon legislature.