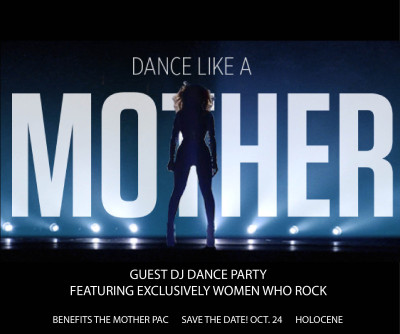 We're throwing our Dance Like a Mother party again this fall and want you to save the date! It's about the funnest way we know to raise funds or candidates.
So go ahead, mark your calendar for a night out on the town! And by all means, invite some friends to boogie down by your side.
Here's the scoop:
What: Our 2nd annual dance party
When: Saturday, October 24, 2015, 6:00 – 10 PM (Doors at 5:30)
Where: Holocene, 1001 SE Morrison, Portland (here's a map)
Why: You need a night out and you need to dance (and because The Mother PAC needs to raise money so we can support the kind of candidates we want to see in office)
Tickets: Get yours here, they're $25 per dancer or $100 for your team of five (Coming soon!)
Facebook: Yes, we want you to post it and use it to invite your dance buddies!
Can't make it? Never fear, you can support our work anyway! Email danielle@motherpac.org for information on learning about hosting a house party and/or sponsoring a dance on party night.
Go ahead, call the sitter! It's that kinda night.
See you on the dance floor!
Grab your ticket now! This one you don't want to miss.  Grab your ticket now!