The Mother PAC has endorsed Chrissy Reitz for Senate District 26 because she will fight for the things that all families need.
As a mother, former neonatal intensive care unit nurse, and a school board member, Chrissy understands what our families need.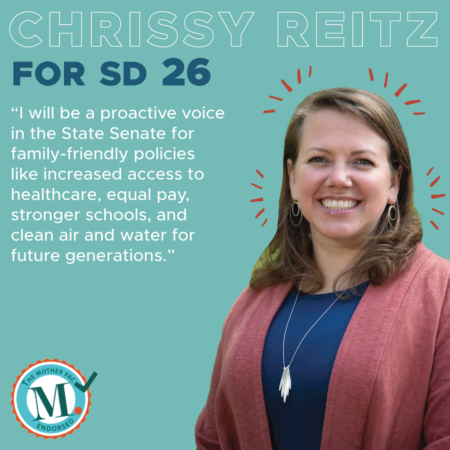 "For 8 years I was a neonatal intensive care nurse. This work gave me a unique perspective on just how critical it is that we protect a mother's — and her child's — access to comprehensive healthcare, from the very beginning. Now, as a mother myself and Chair of the Hood River County School Board, I see how equally important it is that we enact policies that help all families thrive, both inside and outside the walls of our classrooms and doctors' offices. I will be a proactive voice in the State Senate for family-friendly policies like increased access to healthcare, equal pay, stronger schools, and clean air and water for future generations."
Vote for Chrissy Reitz for SD 26 before November 6th! Click here to find a ballot drop box near you.
You can also support her campaign by talking with voters in your area about why you're supporting Chrissy or by making a contribution directly to her campaign.