The Mother PAC has endorsed Rachel Prusak for House District 37 because of her fierce dedication to fighting for the things that women and families need.
As a nurse, Rachel knows just how important it is that everyone can access affordable, high quality health care — and that includes the full spectrum of reproductive health. She also knows just how much of an impact paid family and medical leave and affordable child care will have for working families.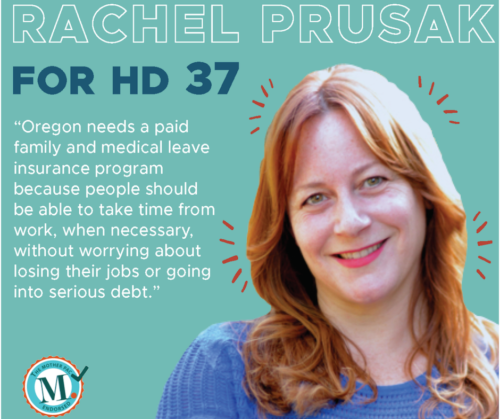 "I support an expansive paid family and medical leave program. The fact that the U.S. is the only industrialized nation in the world that doesn't guarantee workers paid time off to care for a new child, and is one of only a small group of countries that does not provide paid leave for other types of family care, is shameful. At some point in our lives, we will all have a sick partner, an aging parent, a new baby or adopted child, or will get sick ourselves. Oregon needs a paid family and medical leave insurance program because people should be able to take time from work, when necessary, without worrying about losing their jobs or going into serious debt."
Vote for Rachel Prusak for HD 37 before November 6th! Click here to find a ballot drop box near you.
You can also support her campaign by talking with voters in your area about why you're supporting Rachel or by making a contribution directly to her campaign.