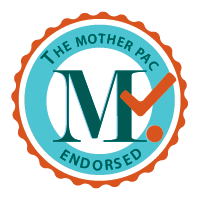 We're very excited to announce our 2016 general election endorsements!  Over the past few months we spent many hours reading questionnaires and interviewing candidates from all over the state.
As a mother-run political action committee, our reason for being is to identify and support great candidates who are strong on the issues we all care about.
If we want to succeed in modernizing the outdated and broken public and workplace policies that aren't working for today's families (and trust us, we do), we need more legislators who are willing to champion the smart policies we know today's families need.  And right now, there just aren't enough of them.
But together we're changing that – one elected office at a time. Which is where our candidate endorsements and YOUR VOTE this November come into play.
We choose the candidates we endorse and support with great care.  After all, if we're giving them our endorsement, we want to be very sure that they will be strong champions for Oregon families.  This year, we asked candidates about where they stand on things like paid family and medical leave, affordable child care, maternal poverty, protections from discrimination for family caregivers, making sure all types of families are protected with laws we pass, and much more.  We feel confident we've found a group of candidates who will work to make things better for Oregon mothers and families.
But, YOU are the one who has the real power to make these changes a reality —  by voting this November!
By voting for pro-family candidates who will work to pass the policies that directly impact our families, we're working to change the face – and culture – of Oregon. And we can't do it without your vote in this (and every) election.
Check out our endorsements here and remember to vote before or on November 8th!