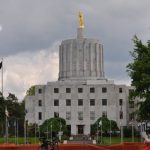 The 2013 legislative session is officially underway!  Our state representatives will be meeting and considering and voting on proposed bills regularly, so now is the time to share your opinions with them.  It's really easy to send your representative in the state House or Senate a quick message about what's on your mind or a bill that you support or oppose.
Receiving personal emails directly from their constituents matters to them — and if they don't hear from YOU, they will still be hearing from others.  There are a number of important issues to speak up about this session, from reducing gun violence to increasing funding for public education, and from clean air to making consumer products safer by increasing our knowledge about the toxic chemicals that are harmful to our health.
Just click here to share your thoughts.  You don't even need to know who your state representative or senator is, though you should look it up — it's smart to know and get on their email lists, too.  Because if you're not going to tell them how important it is that they create a family-friendly Oregon, who is?