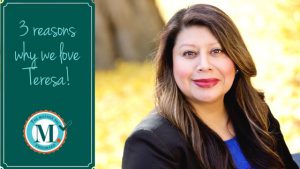 Every year a few candidates stand out for us, and we're inspired to give them a little extra support. So today we want to tell you why we absolutely LOVE Teresa Alonso Leon! She's running for House District 22, which represents Woodburn and NE Salem.
As a mother-run political action committee, our reason for being is to identify and support great candidates who are strong on the issues we all care about –  and Teresa is the right fit for the job! We know you'll agree too.
Here's why we love her:
Reason 1: Teresa runs the state's GED program and is passionate about making sure all kids have a pathway to career and higher education. She is a tireless champion for high-quality public education.
Reason 2: Teresa is Latina and comes from a family of farm workers – in a district where a majority of the constituents are Latino and where many work in agriculture. She has the right life experience to fight for the things this increasingly diverse part of the state needs.
Reason 3: Teresa has served on the Woodburn City Council and has served in a variety of leadership positions. She's smart and prepared to serve the people of Oregon in the legislature.
Agree that Teresa has what it takes to champion the smart policies that today's families in Oregon need? Great! We need your help. Teresa is in a very tight race (one of the tightest in the state) against someone whom we know won't move Oregon forward like she will. This race matters – to everyone in our state.
There are only 9 days left until election day and every call we make and door we knock, matters. If you're interested in supporting Teresa's campaign, you can still help by donating to her campaign here.