Big News!!
We're super excited to share the news with you: this morning The Mother PAC helped launch an awesome new campaign called FAIR SHOT OREGON to help women and working families get ahead, not just get by.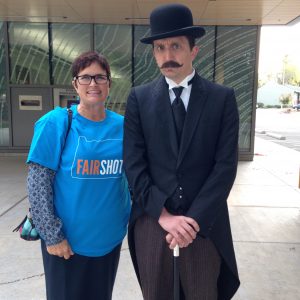 Why?
Because too many of us are struggling with: Stagnant wages. No benefits. Zero retirement savings. Steep childcare costs. Not enough money for gas. Tight food budgets. Pay inequality.  
And we want to know where Oregon candidates stand on these issues!
Truth is, we're working long hours in jobs that barely provide for our families and too often prevent us from spending time with them. Our work-family policies are out of sync with how today's families live.
Over the last fifty years, the number of two-income families and single working parents has skyrocketed. But most jobs aren't designed with this in mind. Too often, we are forced to choose between caring for our families and our financial security.
As Mother PAC Director Andrea Paluso said about the Fair Shot campaign earlier this week in theMedford Mail Tribune:
Our public policies are out of sync with how people really live. They're based on the idea that someone is home full-time taking care of the kids. It's hard to keep your job and take care of your kids when they get the flu but you don't have paid sick time.
Times have changed. We need 21st century solutions that support today's hardworking women and families.  And we want our lawmakers to move those solutions forward.
That's why The Mother PAC, Family Forward Action, Planned Parenthood Advocates of Oregon, AFSCME, Service Employees International Union (SEIU), Oregon Education Association (OEA) and Oregon Action have joined together to start Fair Shot Oregon.
With your help, Fair Shot Oregon is sending candidates & lawmakers a message loud and clear: it's time Oregon families have a fair shot at getting ahead, not just getting by. Especially women and the families they care and provide for.
Make sure your name is on the Fair Shot petition asking candidates and lawmakers for real solutions for Oregon women and working families, like:
Paid sick days
Equal pay for equal work
Retirement security
Higher minimum wage
Go ahead, sign here — then spread the word: http://www.fairshotoregon.org.
Interested in volunteering with this campaign?  Great!  Sign up right here.